How to spot a fake Keith Haring – A Beginner's Guide
There is an exuberant amount of fake Keith Haring artworks out there. This is probably because Haring's pieces are relatively simple to produce. Although his artworks contain powerful messages and intense imagery, they are often born out of relatively minimalistic lines and iconography. At online auction meta search engines like Invaluable and Catawiki, there is … Continued
There is an exuberant amount of fake Keith Haring artworks out there. This is probably because Haring's pieces are relatively simple to produce. Although his artworks contain powerful messages and intense imagery, they are often born out of relatively minimalistic lines and iconography. At online auction meta search engines like Invaluable and Catawiki, there is an abundance of Keith Haring artworks available for sale. Unfortunately, there is a large degree of certainty that anywhere from 50% to 99% of all of these are later "reproductions". Or simple fakes, if you will.
On the internet, in Facebook groups dedicated to Keith Haring, there is a lot of discussion about what makes a piece fake – and how to spot it. In this article, I therefore want to give some advice on how to steer clear of Keith Haring fakes. Buying fake art supports criminal networks and money laundering schemes. It also encourages crooks to produce more fake art. You should never consider buying, or deal in, fakes. It's a cynical, destructive business and it harms the art world in its entirety.
Before we proceed, I want to make it clear that I do not hold any formal eduction in Keith Haring – nor am I affiliated with the Keith Haring estate in any way.
I am however an avid art collector. I have been collecting Keith Haring since 2015, with pieces such as signed and numbered prints bought from trusted gallerists and auction houses, posters, sculptures, books, ephemera and magazines. I have read more or less everything that has even been published about Haring, including interviews, biographies, show catalogs, the various printed catalogs, the quasi-finished online catalogue raisonné found on Haring.com, the journals and articles found on Haring.com and much more.
I have scoured the web and examined thousands upon thousands of available pieces, comparing their traits to the ones I currently own. Hallmarks such as the signature, numeration, printing method, production, paper quality, stamps, documentation, provenance, COA and more can reveal a lot about a piece. As such, I have accumulated extensive knowledge about Keith Haring and his art, which have only deepened my affinity for this Reading-Kutztown-New York legend.
In addition, I am educated as an Art Director (Bachelor of Arts), later as an Attorney-at-Law (LL.M.) from the University of Oslo. This dual education in the visual arts and law gives me a good perspective on the art market. As an attorney, I have also seen my fair share of fake signatures and forged documentation.
Below, I'll tackle the topic of how to spot fake Harings by presenting the list I usually work with, whenever I consider acquiring a Keith Haring piece. The list is not complete and should by any standard be considered a continuous "work in progress". Still, it should serve as an introductory guide on how to avoid buying a fake.
If you have any tips on how the guide can be improved, please reach out to me on email for a friendly chat about Keith and his art.
1. What type of piece is it?
The first thing to consider is always the artwork type. Is it a print? A poster? An original? Ephemera like showcards, flyers or invitations?
Typically, a lot of fakes are advertised as originals – like a Keith Haring drawing or painting. The fakers do this for a host of reasons, but primarily because it is harder to disprove an original. A print usually has an edition size, which limits the abuse. There can only be one edition no. 19 or 24 for example; and if you can find the guy with the original edition no. 19 or 24, it's easier to prove the forgery. That could send the faker behind bars quicker.
In addition, a print is typically more complicated to reproduce. You have to get the colors right, the size, printing method, any stamps, etc. And all of it can immediately be visually compared against another supposedly identical print from the same edition.
With an original, there's always the remote possibility that Keith Haring actually drew this, for a friend, acquaintance or whoever. Also, by nature they are unique – so they don't have do look like anything else. Therefore, originals are typically the fakers go-to choice for Keith Haring. This means that if you're ever offered a Keith Haring original – especially at low cost – you need to understand that the chance of the piece being fake it astronomically high, in most cases close to 99.99%.
If the piece is a print, there is a smaller chance that the piece is fake. However, the number of prints with fake signatures and numbering is increasing – so always be on your toes. And keep reading.
2. Is the piece signed?
The signature is the single most important thing to consider for all Keith Haring pieces. For some reason, the fakers almost never seem to get the signature right. This is of course great news for all serious art collectors. You can usually disprove most pieces in less than 10 seconds by just looking at the signature. So how should it look?
Keith Haring had a very consistent way of signing his pieces. He had a bold, brash and very legible signature, which changed very little since he came to New York in 1978, up to his death in '90. He typically signed "K. Haring". Before the signature, you'll usually find the numbering of the print, for example "64/100". After the signature, you should find the year, like "87". At the end, he would usually write his signature circled cross icon. So most signatures on numbered prints should say something like "64/100 K. Haring 87 ⊕". Other pieces, such as signatures on posters and books, typically read "K. Haring 87 ⊕" or simply "K. Haring".
As for the signature itself, the "K" and H" stands out. Haring would write the vertical lines of both of these letters with a swoosh. Typically, he would start the line at the top, then let it "slide" to the left, before right again, making the line assume a very faint inverted "S"-shape. This feature can be found in more or less all authentic Keith Haring signatures, as exemplified below. These signatures have all retrieved from numbered prints for sale by tier 1 galleries and auction houses.
As you can see, despite spanning several years, all of the signatures are extremely similar. Also, they all have the swooshing, slightly tilted vertical line of the "K" and "H". They are clearly from the same source – Keith Haring.
For reference, below I have overlayed a pink exaggerated and identical "K. H" over three different signatures (believed to be authentic). Again, you see the same pattern: wavy K, wavy H.
You can compare this to some randomly selected signatures from less accredited auctioneers below: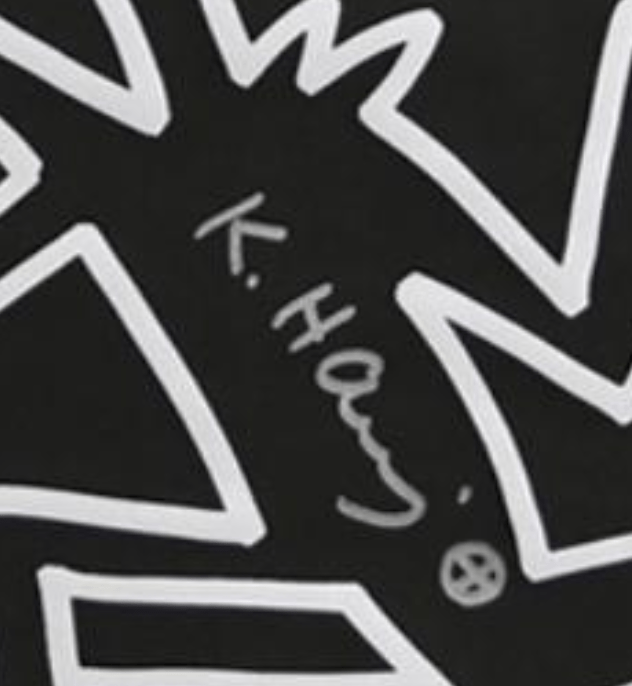 Above, I'm not even trying to find the worst ones – I'm just selecting signatures from random objects available online. In total, the works with questionable signatures are offered for sale at approximately $50.000 USD.
As the demonstration above proves, the signature on any Keith Haring piece is probably the best way of disproving a supposedly Haring piece. You should always:
Visually compare the signature against signatures believed to be authentic.
Look for the slightly tilted, swooshing "K" and "H".
Ensure that the numeration, year and circled cross are consistent with other samples from the same edition or time period.
3. Is the piece numbered?
If you're dealing with a Keith Haring print, it will typically be numbered. You can check the edition size of most Haring prints on Haring.com – for example:
"Montreux, 1983 17eme Festival de Jazz. Edition: 80".
You can also find a lot of information about edition sizes, etc. in the book Keith Haring 1982-1990: Editions on Paper – the Complete Printed Works (available on Amazon).
Always ensure that the piece you are considering matches the official edition size.
To avoid numbering issues, some con men number the fake print with "AP" (Artist Proof), "EA" ("Épreuve d'Artiste") or "PP" (Printer's Proof), "HC or similar. This means that the print is not part of the official numbered edition, but instead a "private copy" for either the artist or the printer. Since they are outside the edition, they are harder to track and compare against known editions. For this reason, you should always take care when being presented with AP/EA/PP prints. In my opinion, they're not less valuable – you just have to take greater care when buying them.
If a piece is not numbered, that typically means you are dealing with an original (highly unlikely), a reprint, a poster or some kind of ephemera. Either way, the value of what you are buying will probably not be too high (even though some very rare posters can go for more than $10.000 in today's art market).
4. Is the piece stamped?
Keith Haring died in 1990. Typically, most artwork by Haring up to this year is signed.
However, some works were already in production when Haring died. This meant he couldn't sign them himself. The Estate solved this by letting Julia Gruen sign the last official editions, like evidenced on this "Radiant Baby" from the Icons-series (1990):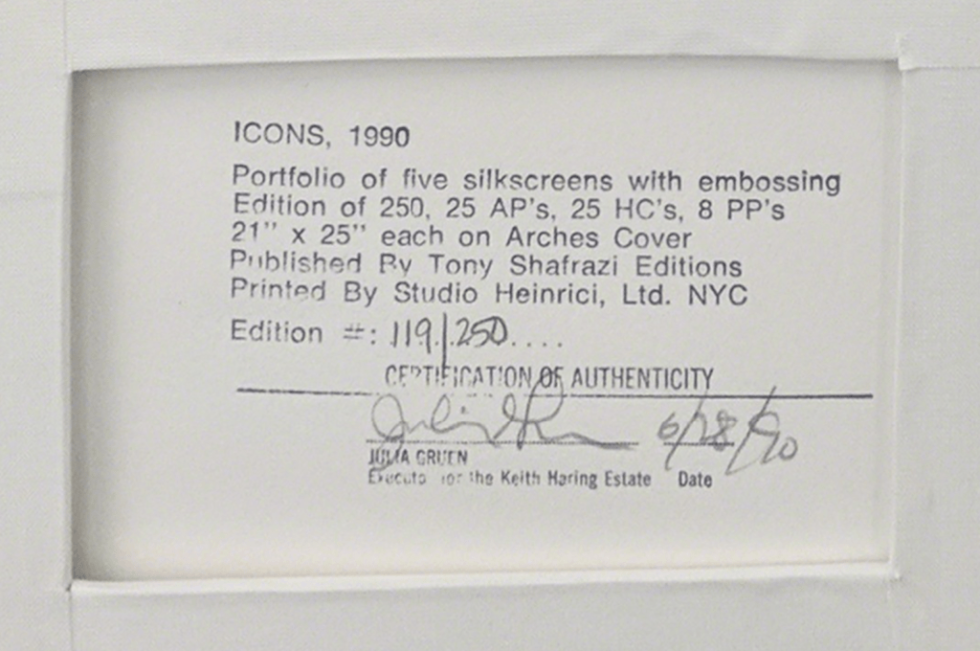 Keith Haring also did some UN prints, including Fight Aids Worldwide, International Volunteer Day, and International Youth Year.
Whilst Haring signed the other prints, International Volunteer Day was done shortly before his death – and therefore signed posthumously by a representative of the UN:
After this, the Keith Haring Estate issued various reproduction editions, often with slightly different colors than the original piece. This is evidenced below:
You can see the seal in the lower left or right corner, which reads "Authorized by the Estate of Keith Haring" (KH), as seen below:
Of course, these later reproductions are not "fake" per say – they are just not collector material. They are produced after Haring's death, by other people than Haring himself. As such, their value is very limited. At time of writing, I see these later reproduction prints and posters go for anywhere from $100-400. This price span is quite interesting, as King & McGaw, the licensed publisher of many of them, sells them online for £120.
Overall, these prints are very decorative and makes for a great starting point for a budding Keith Haring aficionado, but you cannot expect them to appreciate greatly in value.
In addition to the above, and to make matters more complicated, the Keith Haring Foundation has partnered with Artestar, a consulting firm based in New York, specialized in licensing out established art to fashion and design brands. Artestar commercializes Keith Haring's art, and partners with brands and companies like Element, Uniqlo, Fiorucci, King & McGaw and many more, to produce clothes, posters and prints, bearing symbols and images by Keith Haring. This promotes Keith Haring and his art to a greater audience, but the licensed objects typically bear very little value.
5. Is the piece documented?
Now this one is important. Keith Haring put out a lot of artworks, on a lot of different mediums, during a relatively short time span. These include:
Murals
Paintings on large vinyl tarpaulin (tarp)
Paintings on canvases or paper
Drawings
Editions
Posters
Ephemera
For most of these, the artwork can be documented; i.e. its existence is proven, by being featured in videos, books, show catalogs or photos.
For Keith Haring's posters for example, you have the lovely book Keith Haring: Short Messages: Posters (2002), by Marc Gundel. The book features a collection of 100 brilliantly colored and wonderfully diverse illustrations, including many of Keith Haring's most important posters.
To complete the picture, you can also pick up Keith Haring: Posters (2017), by Jürgen Döring. He is the Head of the Graphics and Posters Department at the Museum fur Kunst und Gewerbe Hamburg. Although not a complete collection of all of Keith Haring's posters, the book is an important reference work. Jürgen Döring also offers fascinating insights into Haring's work, providing commentary on each of the exquisitely reproduced posters.
For the more important editions by Keith Haring, you have Keith Haring 1982-1990: Editions on Paper – the Complete Printed Works (1993), by Klaus Littmann. The catalogue sets out to present the complete collections of Haring's work on paper, including many editions created right before his death from AIDS. The book is a a useful reference for all of Haring's graphics. However, it lacks useful details about paper type, publisher and similar. As such, it lacks depth. But – it's the only printed reference catalog of Keith's paper works, so it will have to do.
On Haring.com, there is a treasure trove waiting to be found by anyone who searches: a quasi-finished digital catalog raisonné, initiated (but never finished) by the Foundation. The Keith Haring Database is indexed by date, title, genre, medium and keywords. For example, you can find all collages by entering the word "collage", or all works that use "chalk", or the work titled "Mom". The Foundation ascertains that more work is regularly being added to the database.
On a more general level, you have the aptly named Keith Haring (2014), by Jeffrey Deitch. Closely based on Haring's own concept for the monograph he wanted to publish before his untimely death, the book presents more than a decade of research and contains unpublished photographic and written material including drawings, studio photographs, and journal entries. The book features everything from drawings in the New York subway to the murals of Pisa and Berlin.
You also have identically named Keith Haring (1999), by Elisabeth Sussmann. Drawing on the definitive retrospective staged by the Whitney Museum of American Art, the book features 175 full-color reproductions of Haring's paintings, drawings, and sculptures — including rare early drawings on black paper salvaged from the subways, and photographs that document site-specific works.
Although it does not document specific works, I should also mention Keith Haring's own Keith Haring Journals (2010), with foreword by Shepard Fairey. In his journal, Haring speaks about many of his famous works, including the murals, and the creation and thought process behind these. The journals are interspersed with black & white illustrations of his art, and many of his own previously unpublished polaroids and sketches. It's a fascinating read.
Lastly, I should mention the various documentaries of and with Keith Haring, including The Universe of Keith Haring and Drawing the Line. Both documentaries features dozens of Haring's works, as seen here in Drawing the Line:
Together, these books, journals and videos give you a good sense of what artworks of Keith Haring actually exist.
Sometimes, you'll come across artworks which can't be found anywhere. They're not listed in the Poster-books, they're not found in Littmann's catalog, they're not listed on the Haring.com website and they're not photographed, captured on video or otherwise document anywhere.
Typically, such finds are in the form of original drawings, and purported to be "gifts" to "friends" of Keith Haring. They're often signed – some times not. Because of their lack of history, I would be extremely careful purchasing any such works – unless you're buying it from a Tier 1 gallery or auction house. Otherwise, chances are you are getting scammed.
6. Who is the seller?
Some sellers are more reputable than others. Buying from a reputed seller reduces the risk of fraud, as many auction houses, galleries and the likes do proper research on any piece they buy – and later sell.
Personally, I view auction houses like Phillips, Bonhams, Sotheby's, Christie's, Heritage Auctions, Bukowskis, LAMA and similar to be reliable sources for Keith Haring artworks. The same goes for authoritative and especially trustworthy galleries like Guy Hepner, Joseph Fine Art, Tony Shafrazi Gallery, Taglialatella Galleries, Hamilton-Selway, Martin Lawrence Galleries, Soho Contemporary and similar.
If you buy outside of reputable sources, such as from smaller US auction houses specialized in "estate sales", the risk of acquiring a fake increase tenfold. Often, these hide behind phrases like "sold in the style of Keith Haring" or "attributed to Keith Haring", which is usually a tell-tale sign that you should probably avoid the piece at all costs.
7. Can the seller supply verifiable information about the provenance of the piece?
"Sorry, this piece comes from an estate sale."
"This piece was gifted to a friend by Keith Haring. Unfortunately, we don't have any further information about the piece."
"The piece comes from a private collection."
If you see any of these statements, either on the auction description, or given to you, when you ask for provenance, you should probably back away from the deal. These are run-of-the-mill excuses, when the seller can't document the origin of the piece he is selling.
Always ask yourself: Why can't the seller give more information? How come he doesn't know the history for a piece he's trying to sell for 5-10-20-50k USD? If you bought something for 20.000 USD, would you remember who you bought it from?
The provenance – or lack of it – can give you valuable insight into making an educated guess about the authenticity of a piece.
8. Does the piece come with a COA?
Some pieces are sold with so-called COA's – Certificate of Authenticity. Typically, they are offered by someone who offers Keith Haring authentication services. Usually, these are complete rubbish. Here is one example:
Looks impressive, right? "Someone" certifies that "something" is real (it even has a gold border and seal). But what does that really mean? Who is the authenticator? What is he authenticating?
When you look at Keith Haring and COA's, there is only really one COA that matters: A historical COA from the Keith Haring Foundation Authentication Committee.
A COA from here looks like this:
Unfortunately, the Keith Haring Foundation disbanded the Authentication Committee and ceased accepting applications for review of Haring works, received after September 1, 2012. This means you will be hard pressed to find any worthwhile Haring COA's in today's art market. Relatively few exist.
On its website, the foundation writes:
"After careful consideration, the trustees came to the conclusion that the public and the Foundation's charitable mission would be better served if the resources presently required for the operation of the authentication committee were redirected to purposes more directly related to the charitable goals designated by the Foundation's founder, the artist Keith Haring.  The Foundation is exploring the development of a catalogue raisonné of the artist's work."
Personally, I think this is a disgrace, as this leaves the Haring market wide open for manipulation by fraudsters, issuing their own phony "COA's", tricking buyer's into purchasing fraudulent works.
Was this Haring's mission, when he produced extremely high quality print editions – or opened the Pop Shop? No, he wanted to make his art – real art – available to the masses. I do not think he would appreciate his own Foundation allowing the fake market to absolutely flourish, solely on the back of its own passiveness and laissez faire mentality. By continuing its COA service – offered at a sustainable premium – the Foundation could wipe out large portions of the fake art market overnight. A fake art market – which exists in direct opposition to the mission statement of the Foundaton itself; "[to] maintain and protect [Keith Haring's] artistic legacy". But alas; it does not have the resources for authentication. Even if you offer to pay for it. Which would give them the resources.
As you can understand, I don't think most Keith Haring COA's hold much merit – except, perhaps, those issued by authoritative and trustworthy galleries. But then again: they usually don't issue them. Because they don't have to – their pieces are real.
Closing words
Collecting art is hard. It's full of false promises, purchases you regret years later and general grievances. It is however also an incredible rewarding hobby – if you are prepared to invest the required hours into locating the right pieces, offering authenticity and peace of mind. Good luck in your own art hunt!